Red Thread Embroidery

POB 753

Bentonville, AR  72712

Copyright (C) 2009 Red Thread Embroidery

We are Don, Ashley, Emma and Elizabeth.

The inspiration for this business came  seven years ago after we sent an embroidered blanket to our daughter in Maoming, China, for whom we had just received a referral. 

Since posting a photo of the blanket on our family website, we have received many inquiries from folks wanting to know where they could get something similar with their child's embroidered Chinese name. 
Because she enjoys computer-based hobbies and is active in international adoption, Ashley decided to learn machine embroidery/digitizing and offer these keepsake blankets to fellow China families.

We are thrilled that Red Thread Embroidery is open for business and we look forward to helping you create a one-of-a-kind personalized item for your child.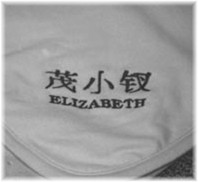 Mao Xiao Chai

Referral Photo